Find the length and width of a rectangle if its perimeter is 28cm and area is 45cm2.
What are the dimensions of a rectangle whose perimeter is 70cm and area is 216cm2.
Find the dimensions of a rectangle whose perimeter is 35cm and area is 73.5cm2.
Find the dimensions of all the rectangles whose perimeters in cm are twice the value of their areas in cm2.
Answers
Sign in to your Transum subscription account to see the answers
Note to teacher: Doing this activity once with a class helps students develop strategies. It is only when they do this activity a second time that they will have the opportunity to practise those strategies. That is when the learning is consolidated. Click the button above to regenerate another version of this starter from random numbers.
---
Your access to the majority of the Transum resources continues to be free but you can help support the continued growth of the website by doing your Amazon shopping using the links on this page. Below is an Amazon link. As an Amazon Associate I earn a small amount from qualifying purchases which helps pay for the upkeep of this website.
Educational Technology on Amazon

---

Teacher, do your students have access to computers?
Do they have iPads or Laptops in Lessons?

Whether your students each have a TabletPC, a Surface or a Mac, this activity lends itself to eLearning (Engaged Learning).
Here a concise URL for a version of this page without the comments.
Here are URLs which will take them to related student activities.
Transum.org/go/?to=AreaBuilder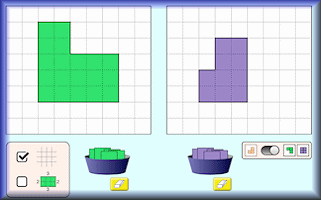 ---
Curriculum Reference