Thai Numbers Jigsaw
Drag the jigsaw pieces onto the frame so that the numbers are in order from smallest to largest.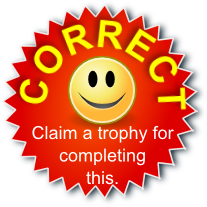 Description of Levels
Close

Level 1 - 6 by 5 grid starting at 1
Level 2 - 6 by 6 grid starting at a number between 3 and 9
Level 3 - 7 by 7 grid starting at a number between 33 and 49
Level 4 - 8 by 7 grid starting at a number between 70 and 88
Level 5 - 8 by 8 grid starting at a number between 450 and 470
Roman Numerals Jigsaw - If you enjoyed this jigsaw there are others you can try.
Roman Numerals
If you are not yet an expert on Roman numerals here is an explanation:
| | |
| --- | --- |
| Symbol | Value |
| I | 1 |
| V | 5 |
| X | 10 |
| L | 50 |
| C | 100 |
| D | 500 |
| M | 1,000 |
Numbers are formed by combining symbols together. So II is two ones, i.e. 2, and XIII is a ten and three ones, i.e. 13. There is no zero in this system, so 207, for example, is CCVII, using the symbols for two hundreds, a five and two ones. 1066 is MLXVI, one thousand, fifty and ten, a five and a one.
Symbols are placed from left to right in order of value, starting with the largest. However, in a few specific cases, to avoid four characters being repeated in succession (such as IIII or XXXX) these can be reduced using subtractive notation as follows:
The numeral I can be placed before V and X to make 4 units (IV) and 9 units (IX) respectively
X can be placed before L and C to make 40 (XL) and 90 (XC) respectively
C can be placed before D and M to make 400 and 900 according to the same pattern
Explanation adapted from the Wikepedia article on Roman numerals.
Don't wait until you have finished the exercise before you click on the 'Check' button. Click it often as you work through the questions to see if you are answering them correctly. You can double-click the 'Check' button to make it float at the bottom of your screen.
Answers to this exercise are available lower down this page when you are logged in to your Transum account. If you don't yet have a Transum subscription one can be very quickly set up if you are a teacher, tutor or parent.
Close